I know that 3 months into my diet I should have already learned this lesson. But this is actually a big deal for me. Before coming over to my bf's house last night, I prepared not only my workout stuff (clothes + vids) but food! To expect my boyfriend to have any suitable food that complies with my "healthy" lifestyle would be expecting all too much from him.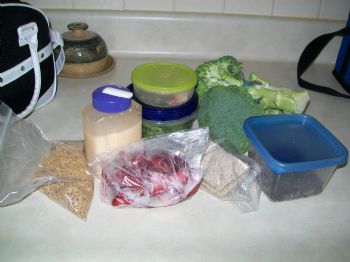 I brought:
1 serving almond cheese + ryvita crackers
1 cup of almond milk
1/2 cup of fibre 1 cereal
1 cup frozen strawberries
1 cup fresh spinach
100g of black beans
and an entire thing of broccoli ("thing" being the obvious term for amount)
Hah.

it seems like a lot of food - but guaranteed I will be eating all of this today

(maybe not so much all the broccoli)
I know that bringing my own food won't always be an option. I will be thrown into situations often where I probably won't feel comfortable with what is being served/offered.
I think this was a small step of success for me in my healthy lifestyle change. Preparation has always been key, but I usually thought of that in terms of my bagged lunches

, or figuring out what I was going to make for dinner ahead of time. This is a new thing for me. It makes me wonder about social politeness though.
Obviously I can bring whatever I want over to the boy's house, because if anything it is appreciated so that I don't force us to take a trip out to the grocery store. But at get togethers and the highly anticipated summer bbqs

- how inappropriate will it be for me to just bring my own food?
As a vegetarian, one of which is trying to lose weight and be healthy, many of the options available to me at parties involves either a. the cocktail olives or b. some crappy bagged ice burg salad. If i were able to bring my own food (with enough to share) I would certainly eliminate any desire for me to make a poor choice. I suppose the game plan for that would have to be call ahead and speak to the host. If I informed them about my "circumstance" (because let's face it, in today's world the "healthy" eater tends to be a dying species...no pun intended...or maybe intended) they would feel less shocked and put off when I bring a dish of spicy black bean burger patties... or quinoa salad, or almond cheese spread with crisp bread.
thoughts?