Day 2...
Today there was the usual disruption, as I was over at the boyfriend's place. What this usually means is that I am taken out of my element for food. But i came slightly prepared.
For breakfast we had eggs (eggwhite omellete for me), hashbrowns and fruit (guess which plate was whos)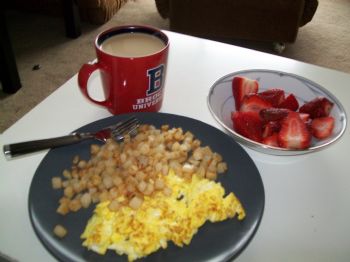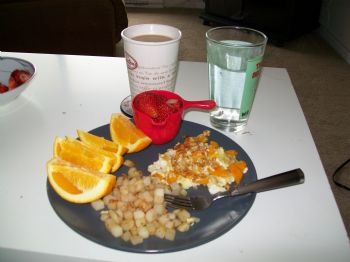 He made me make sure that the strawberries were in the shot. Because that cancels out the 1 1/2 cups of hasbrowns.
I planned ahead slightly the night before and brought over almond cheese (see previous food log for recipe), ryvita crackers and black beans.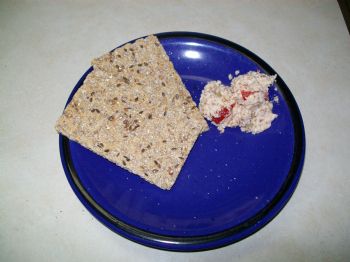 The almond cheese and crackers I had as a snack to tide me over before I made actual lunch. Today was sort of a borning, non-doing anything day. Even though I had to work in the evening, I considered it a day off of sorts. Any chance I can get to just hang out and relax with the bf I'll take.
For lunch I had to get a bit creative. One of the staples that I have left over at his place is Quinoa.
Quinoa is actually a seed, that when cooked is fluffy like rice, couscous in texture and it has a nutty texture. Because it is a seed, it is actually a complete protein, making it an excellent choice.
I added sauted onions, quinoa and black beans together. I mixed in a tiny amount (10g) of feta cheese with some Renee's Spring Herb Dressing: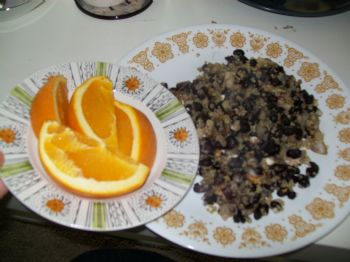 It wasn't my best, but it was healthy. I added the other half of my orange from breakfast to round out my meal.
I worked a mini little 4 hour shift today at work, which actually was quite the hinderance.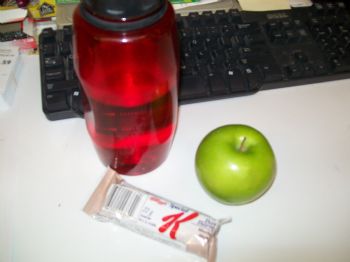 I had an apple, special K bar and some water. Quite unimpressive.

By the time I got home, I had to rush to have dinner, because I needed to get in my workout before the boy came and picked me up for the night. I grabbed a container of my lentil and vegetable soup from the freezer. It didn't really stand up to the freezer, but it was nonetheless tasty. I complimented it with some almond cheese (did i mention this stuff blows my mind?

). I layered Ryvita crisp bread with spinach and the cheese. Delish! The left over spinach (I measured out a cup) I just threw in my soup.
I then worked out for a good 30 mins, but had no energy to do my full hour of strength training. At least I got in my 30 mins of cardio (did 3 of coach nicoles kick boxing/cardio vids). (

).
Post workout was time for my Green Monster: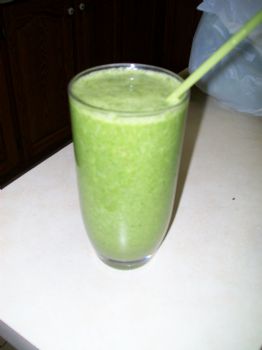 My Green Monster Includes:
2 tbsp ground flax seed
2 cups baby spinach (put in a bowl with water and microwave for 2 mins)
1 cup almond milk
1 banana
(blend all this, than add in some ice cubes and switch to ice crusher). It's refreshing and delicious. IF i had strength trained, I would have had 1/2 a scoopful of protein powder (more on that later).
Than it was off to the boy's house. Where I indulged in a late night snack of garlic bread. It was uber tasty, but oh so bad for me i know.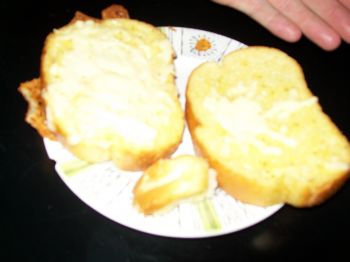 and finally - my reason as to why blogging my food journal keeps me accountable

: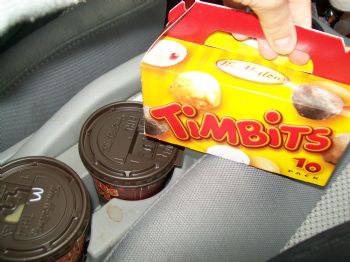 i only ate 5 timbits though. only 5...because the rest fell on the car floor.