This is day 3 of my food blogging/journal shenanigans. And for some reason, the pics didn't save onto my card.. all except one. I am interested to see if this made any difference come next wednesday when I have to weigh in. Last week I lost 2 lbs (!), so I fear that maybe this week it will be a different story.
I began the day on an off foot (is that even a saying?)
(insert picture of a piece of stale, cold left over pizza ).
It was a tiny slice, I swear! but what a waste! It tasted tres horrible. But I did include it in my nutrition tracker for today (that and the other piece i managed to get in.. ) I thought I could make it better by having a heart healthy breakfast.
(insert pic of me gobbling down a bowlful of almond milk + fibre one + strawberries

)
but alas.. that cold, disgusting, stale pizza was calling my name...so naturally I had another piece.

I managed for the first time today to do a workout at my bf's apartment.

It wasn't the best, most intense workout I have done (by far) but it was a workout nonetheless. The problem is that his apartment is on the top floor of a non-air conditioned builiding. Even though it is the month of May, things got quite stuffy quite quickly when I began jumping and kicking

. I did Coach Nicole's Cardio Kick boxing, and both of her Boot Camp Vids (seen
here
). I think I need to start thinking about buying some new workout dvds (or just find the one's I have).
After working out, I had my typical lunch. Black beans I had brought over from home + rice and broccoli. It worked out well. I just sprinkled some feta cheese goodness on it. Feta cheese is my go to food item. It requires so little (i swear by just 10 g), but adds so much flavour.
I brown bagged it to work today.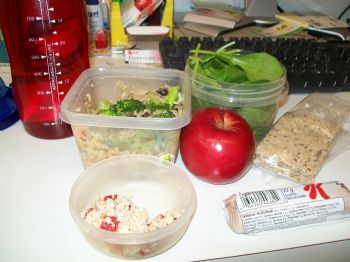 This is two breaks worth of food. Left over lunch, almond cheese, crackers apple and a special K bar.
That special K bar really had me thinking though. It promotes itself as being a healthy choice - and at only 90 calories, it certainly has me hooked. I use it as a way to get in my crunchy/sweet...sometimes chocolatey fix. That being said, have you looked at the list of ingredients? I can barely pronounce any of them, let alone know what they are. I am going to try and focus on only eating foods with an ingredient roster I can pronounce, describe and spell (ok, maybe not the last one.. my spelinng is atrocious). My game plan will be to start planning out my meals more carefully. To say that I will focus only on whole foods is to vague I think.
I truly expect this to be quite the challenge, one of which I am not quite prepared to do just yet. Maybe I will wait till my costco sized box of special K bars is gone to begin.
Anyway! Sorry for the lack of pics in this post. Hopefully my camera will get it's act together for tomorrow...because it is the equipments fault always...never the user.
What are your thoughts on consuming food products with an ingredient list that might as well be in a foreign language?